Duo-Chek II创新的双阀瓣结构采用两个弹簧负载阀瓣(半阀瓣),悬挂在中心垂直的铰链销钉上。当流体开始流动时,阀瓣在作用在密封表面中心的合力(F)作用下开启。起着反作用的弹簧支架力(Fs)的作用点位于阀瓣面中心外的位置,使得阀瓣根部首先开启。这就避免了旧型常规阀门在阀瓣开启时所出现的密封表面摩擦现象,消除了部件的磨损。
  The innovative dual-plate design of the Duo-Chek II employs two spring-loaded plates (disc halves) suspended on a central vertical hinge pin. As flow begins, the plates open in response to a resultant force (F) which acts as the center of the sealed surface area. The contact point of the reacting spring leg's force (Fs) acts beyond the center of the plate area, causing the heel to open first. This prevents rubbing of the seal surface prior to normal plate opening, eliminating wear.
  当流速减缓,扭转弹簧自动反作用,使得阀瓣关闭,向阀体阀座靠近,减少了关闭的行程距离和时间。当流体倒流时,阀瓣逐渐靠近阀体阀座,阀门的动态反应随之大大加速。这戏剧性地减小水锤现象的影响,从而实现无撞击性能。
  As the velocity of flow decreases, torsion spring action reacts automatically. This moves the plates closer to the body seats, reducing the distance and time of travel for closure. By having the plates closer to the body seats at the time of flow reversal, the valve dynamic response is greatly accelerated. This dramatically reduces the water hammer effect for non-slam performance.
  在关闭时,弹簧力作用点的作用使得阀瓣顶端首先关闭。这防止了阀瓣根部的出现咬模现象,使得阀门能够保持更长时间的密封整体性。
  At closing, the point of spring force causes the toe of the plates to close first. This prevents dragging of the heels of the plates and maintains seal integrity for much longer periods.
独立的弹簧结构
Independent Spring Design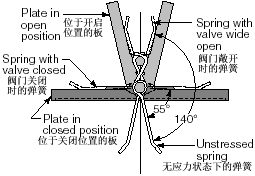 Duo-Chek II弹簧结构(通径DN150及以上)使得在每个阀瓣上能够施加更大的扭矩,并且随着工业液流的变化而独立关闭。实验证明这种作用使得阀门寿命延长了25%,水锤现象减少了50%.
  A spring design of the Duo-Chek II (sizes 6" and larger) allows higher torque to be exerted against each plate with independent closing in response to the process stream. Testing has proved this action provides up to 25% improvement in valve life and 50% reduction in water hammer.
  双阀瓣的每个部分都有自身的弹簧,这些弹簧提供独立的关闭作用力。这些独立的弹簧所经受的角度偏移比较小,只有140o,而不是配置双支架的常规弹簧的350o。
  Each of the dual plates has its own spring or springs, which provide independent closing action. These independent springs undergo less angular deflection, only 140o as compared to 350o for conventional springs with two legs.
独立的阀瓣悬挂结构
Independent
Plate Suspension Design
  Duo-Chek II独立的铰链结构减小摩擦力66%,这种结构极大地改善了阀门的反应作用。支撑套管从外侧铰链插入,使得上部铰链在阀门运行期间能够由下部套管独立支撑。这使得两个阀瓣能够迅速反应,并同时关闭,实现优异的动态性能。
  The Duo-Chek II unique hinge design reduces friction forces by 66%, which improves valve response significantly. Support sleeves are inserted through the outboard hinges so that the upper hinge is independently supported by the lower sleeve during valve operation. This allows both plates to close at the same time for quick response, and exellent dynamic performance.