a) 闸阀


  a) Gate Valves

   优点-推荐
   Positive Features - Recommendations
    1) 适用于开启-关闭管道系统
   1) Good choice for on-off service
    2) 完全流通-低压降
   2) Full flow-low pressure drop
    3) 双向
   3) Bidirectional

    缺点
   Disadvantages
    1) 不能用于节流;只能用于完全开启或完全关闭
   1) Not for throttling; use fully opened or fully closed
    2) 金属对金属阀座意味着不适用于频繁操作。金属对金属结构也不适用于无气泡阀座。
   2) Metal-to-metal seating means not best choice for frequent operation. Bubble-tight seating should not be expected with metal-to-metal design.
    3) 难于自动控制
   3) Difficult to automate.

    楔板和阀座结构
   Wedge and Seat Designs


    1) 实心楔板对于所有建筑物管道系统来说,都是最好的选择。现代铸造技术和机械加工工艺使得实心楔板在许多管道系统中的工作性能表现优异。
   1) Solid wedge best choice for all building services. Modern foundry and machining controls enable the solid wedge to give good performance in a broad range of services.
    2) 金属实心楔板阀座对阀体上的金属阀座这种结构形式在建筑物管道系统中应用最普遍。橡胶涂层实心楔板(弹性楔板)在消防系统和市政冷水管道系统中应用越来越流行。弹性楔板结构具有无气泡阀座密封 功能,但是水温最高不能超过71oC。
   2) Metal solid wedge seating against metal seat in body is the most common in building service piping. Rubber-coated solid wedge (resilient wedge) has become popular in fire protection and municipal cold water service. The resilient wedge design offers bubble-tight seating, but is limited to 160°F water service.

    阀杆结构
   Stem Designs

    1) 明杆-内螺纹结构对于青铜多回转阀门来说是最通用、首选的结构形式。在完全开启的"后阀座"状态下,阀杆螺纹能够避免与流体介质接触。开启阀门时,阀杆上升,因此在阀杆上升的地方就必须要有足够的空间才能够防止阀杆表面遭受损坏。阀杆位置的高低,指明了阀门处于开启或关闭状态。
    *不推荐在阀门压力增加时补充填料。
   1) Rising stem-inside screw is the most common and preferred design for bronze multi-turn valves. In the fully open "back seated" position*, the stem threads are protected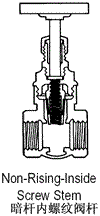 from the circulation of flow media. Because the stem rises as the valve is opened, clearance must be provided and stem orientation should
protect it from external damage. The stem position indicates to the observer if the valve is opened or closed.
   *Repacking while valve is pressurized is not recommended.
    2) 暗杆-内螺纹结构用于青铜和铸铁闸阀。这种结构形式比明杆更加紧凑,阀杆螺纹总是暴露在流体介质中,容易受到侵蚀或腐蚀。这种结构的阀门无法显示开启/关闭状态。
   2) Non-rising-inside screw stems are used in bronze and iron gate valves. While they are more compact than rising stem valves, the stem threads are always exposed to flowing media, allowing for possible erosion/corrosion. Open/close indication is not provided with this design.