止回阀(防倒流)
  Check Valves (Backflow Prevention)

  a) 旋启式止回阀压降最小,能够完全自动关闭,即在介质流动停止、重力和介质倒流的状态下自动关闭阀门。许多青铜阀门为了改进性能,采用角式阀座的Y形阀体。如果需要更紧密的关闭,就需要采用弹性阀座。
  a) Swing-type check offer the least pressure drop and offer simple automatic closure; when fluid flow stops, gravity and flow reversal closes valve. Many bronze valves offer a Y-pattern body with an angle seat for improved performance. Resilient seating preferred for tighter shutoff.

  b) 升降式止回阀一般采用直通或球形阀体结构。与旋启式结构相比,这两种结构都会产生比较大的压降,其水平模式的局限性与截止阀相同。有些类型止回阀配置弹簧驱动,能够在流动停止时,立即关闭阀门。由于这种止回阀能够在重力和介质倒流撞击启闭件之前关闭阀门,因此这种直通弹簧驱动升降式止回阀也称为"静音"止回阀。建议采用弹性阀座。


  b) Lift checks come in in-line or globe-style body patterns. Both cause greater pressure drop than the swing type, with the horizontal pattern similar in restriction to globe valves. Some styles are spring-actuated for immediate closure when flow stops. The in-line spring-actuated lift check also is referred to as the "silent check"because the spring closes the valve before gravity and fluid reversal can slam the valve closed. Resilient seating recommended.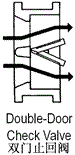 c) 双门止回阀在弹簧中心轴旁配置两个对称的阀瓣。这种止回阀流通性能比升降式止回阀要好,通常采用平板阀体,这样成本更低,安装也更加容易。建议采用弹性阀座。
  c) Double-door checks have twin discs on a spring-loaded center shaft. These valves have better flow than lift checks and most often use a wafer body for low cost and easy installation. Resilient seating recommended.
  流量平衡阀
  Circuit Balancing Valves

  a) 平衡阀一般用来控制和调节介质流量。这种阀门能够将两股流体完全分隔在两边,将流量保持在所设置的范围内。阀座两边的测压点用于流量测量。大部分平衡阀采用截止阀结合抛物线(插塞)阀瓣。
  a) A Balancing Valve is used to regulate and measure the rate of flow of water. The valve can positively isolate the flow and be set at an intermediate position to maintain the design flow rate. Pressure tapping points on either side of the seat provide the means for flow measurement. Most Balancing Valves are globe style and incorporate a parabolic (plug) shaped disc.