独有专利弹簧设计
Unique Patented Spring Design
弹簧位于活塞架内。
Springs are located inside the piston rack.
尼伯科弹簧由世界领先的制造商提供,采用SiCr材料,符合DIN 17223T2标准,具有3.1.b认证(EN10204)
NIBCO springs are supplied by one of the world's leading manufacturers and are made from SiCr in compliance to DIN 17223T2 with a 3.1.b Certificate (EN10204).
三轴轴承系统
Triple Shaft Bearing System
双动执行机构上的内部测试证实,三轴轴承系统能够完全吸收止动凸轮驱动装置所产生的的止动冲击。驱动轴能够保持内在的平衡位置。
In-house testing on Double Acting units has shown that the Triple Shaft Bearing fully absorbs the stop impact
load on the Stop Cam Drive mechanism. The Drive Shaft is kept in a balance position within the Body.
活塞支撑轴承
Piston Back-Up Bearing
在最大负载和高频率操作状态下,内部测试显示执行机构的使用寿命增加了两倍多。
In-house test have shown that the life span of the Actuator was increased by more than two-fold when operating under max. load and high cycles.
轴是采用实心棒材加工而成,通过止动凸轮机械装置来控制调节开启和关闭位置,调节范围在2.5° 之内。
Shaft machined from solid bar with Stop Cam Mechanism for controlled adjustment of 2.5° of the Open and Closed position.
加大的执行机构驱动轴内径,允许插入多种插入件。(ISO或尼伯科双动)
The enlarged Actuator Drive Shaft Bore allows for insertion of variable inserts. (ISO or NIBCO double D)
增加驱动轴的内部深度,更容易与各种阀门轴高相配。
The increase of the inner depth of the Drive Shaft allows for total engagement of any Valve Shaft height.
100%防吹出轴,保留独特的保护杆系统。
100% Blow-out proof shaft, retained with unique Guide Bar System.
可提供钢或不锈钢,和CNI执行机构上的CNI/PTFE材料制成的轴。
Available in Steel or Stainless Steel and CNI/PTFE on CNI units.
尼伯科直观指示器
NIBCO Vision Indicator
新型的尼伯科直观指示器可以安装在执行机构的驱动轴上,不仅可以作为直观指示器(交叉和平行),而且在安装了开关和定位器后,还能够作为局部指示器。只要简单增加两个螺丝,尼伯科直观指示器就可以变成适合近控开关的安装底座。(附属件,非标准配置。)
The new NIBCO Vision Indicator can remain on the Drive Shaft of the Actuator and can be used not only as a Visual Indicator (Cross and Parallel) but as a local indicator when Switches and Positioners are mounted, with simply adding two screws the NIBCO Vision Indicator becomes the Puck for the fitted Proximity Switches. (Accessory item, not standard)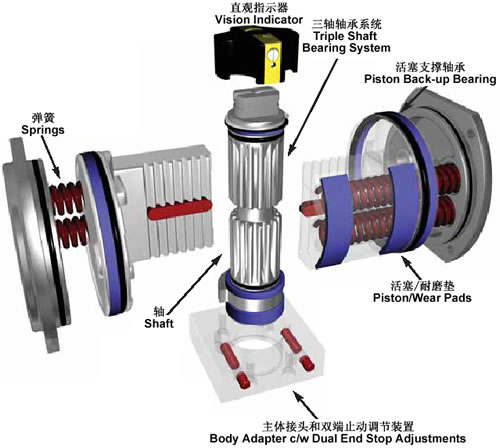 独特的3点负载轴承活塞结构
Unique 3 Point Load Bearing Piston Design
独特的双导杆具有吸收齿条和齿轮负载的特点,确保齿轮之间能够优化啮合。
Unique twin guide bar feature absorbs rack and pinion load and ensures optimum teeth engagement.
双重密封活塞耐磨垫在每个冲程开始时能够吸收逆向负载。
The dual encapsulated piston wear pads absorb the adverse side loading at start of each stroke.
4个无密封活塞耐磨垫确保避免金属之间的接触,因此具有很小的摩擦行程。
The 4 off encapsulated Piston wear pads also ensure no metal to metal contact thus providing low friction travel.
主体接头和双端止动调节装置
Body Adapter c/w Dual End Stop Adjustments
DA或SR执行机构适用于大多数尼伯科直角行程阀门。
DA or SR Actuators can be used and fitted to most NIBCO Quarter-Turn Valves.
执行机构可以用作交叉或平行安装,不需要进一步改装。
Actuator can be used for Cross or Parallel mounting without further modification.
适合室内储存(减少仓储成本)。
In-house stock flexibility (Inventory Cost Reductions).
止动调节螺丝也就是锁定螺丝,位于主体接头上。这是执行机构气源压力墙外的外部装置。
Stop Adjustment Screws as well as Locking Screws located in Body Adapter. This is external to Actuator Air Pressure Chamber.