乔治•奥古斯塔斯•保必丽
George Augustus Bobrick  我们为我们公司的历史和成就感到自豪。我们公司名称最早是以乔治•奥古斯塔斯•保必丽的名字命名的,他于1906年创立了美国保必丽公司。当时公司名称叫做美国保必丽化学公司,是各种化学产品(腊,氨,等等)。为了增加皂液产品的销售额,保必丽先生和他的儿子亚瑟,设计并且生产皂液器。(这家化学公司于1938年完全卖出)。
  We look with pride upon the history and accomplishments of our Company. Our Company name originates from George Augustus Bobrick, who founded it in 1906. It was known as Bobrick Chemical Company, manufacturers of various commercial products (waxes, ammonia, etc.). To promote the sales of liquid soap, Mr. Bobrick and his son, Arthur, designed and produced soap dispensers. (The chemical business was sold outright in 1938.)


"卧铺"型皂液器
"Pullman" Type Liquid
Soap Dispenser  乔•奥•保必丽提出了第一个皂液器的创意,并因此于1908年获得了美国专利。美国卧铺车厢公司随后要求保必丽进一步完善皂液器将其用于他们的列车车厢内。结果就产生了第一个安装在洗脸盆的"卧铺"皂液器,这种皂液器因此于1912年获得第二个美国专利。这些早期发明使美国保必丽公司成为皂液器设备的开创者和先锋队,也确立了我们公司新的发展方向。
  G.A. Bobrick conceived the idea of the first liquid soap dispenser and was awarded a U.S. Patent for it in 1908. The Pullman Car Company later asked Bobrick to develop a soap dispenser for use in their railway passenger cars. The result was the first basin-mounted "Pullman" dispenser, which brought Bobrick a second U.S. Patent in 1912. These early inventions established Bobrick as a pioneer in soap dispensing equipment and set a new direction for our Company.


挂墙皂液器
Wall-mounted
Liquid Soap
Dispenser  在随后的几年内,又开发了许多型号的皂液器。随着公众对公共卫生间卫生标准的要求越来越高,在加上建筑行业的快速发展,使得皂液器创意得到越来越多人的认可接受,销售也随之越来越多。
  In the years that followed, many other soap dispenser models were developed. Greater awareness of proper sanitary standards in public washrooms, plus a rapidly growing construction industry, contributed to the increasing success and acceptance of the soap dispenser idea.
二十世纪二十年代,美国保必丽已经在全美国销售了25万个皂液器,公司两页样本罗列了十二个型号的皂液器。
  By the 1920's, Bobrick had sold some 250,000 soap dispensers throughout the United States, and the Company's two-page catalog listed a dozen models.
  1941年,美国保必丽公司的工厂面积由3,500平方英尺扩大到7,200平方英尺,员工30人。几百万个美国保必丽皂液器已经安装在全美国各个商业建筑,学校,以及其他公共机构中,美国保必丽公司也创造了更多的"第一",包括第一个挂墙皂液器,第一个肥皂泡皂液器,以及第一个40盎司罐装皂液器。
  By 1941, Bobrick had expanded from the original 3,500 square foot plant to a 7,200 square foot plant with 30 employees. More than a million Bobrick soap dispensers were already installed in commercial buildings, schools, and other institutions around the country, and the Company had introduced more "firsts," including the first wall-mounted dispenser, the first lather dispenser, and the first 40 fl. oz. tank-type soap dispenser.
  第二次世界大战期间,由于美国工业需要转向为战争服务,因此要求公司业务做出调整。美国保必丽公司相应号召,开发出"胜利"型皂液器,节省战争期间的紧缺物资。此外,美国保必丽公司还将大部分生产能力和工程技术骨干用于生产飞机基础部件,为美国波音、Convair、道格拉斯、洛克希德、那斯洛普和邦迪科斯等公司提供飞机配件。
  World War II demanded new adjustments as the country's industrial effort was directed toward the war. Bobrick responded with "Victory" model soap dispensers that conserved critically needed materials. In addition, Bobrick directed a major portion of its manufacturing facilities and engineering skills to the production of essential aircraft parts for such companies as Boeing, Convair, Douglas, Lockheed, Northrop and Bendix.


威廉•S•洛凯姆
William S. Louchheim


戈登•S•博德克
Gordon S. Bodek  第二次世界大战结束后,美国保必丽引来了公司发展的新纪元。1946年,威廉•S•洛凯姆成为公司的合作伙伴和总经理,为美国保必丽公司打下更加雄厚的技术基础和金融基础。1948年,戈登•S•博德克加入公司,被指派负责皂液器的销售工作。公司也搬迁到面积更大的16,500平方英尺的新厂房,并且恢复生产全系列皂液器,拓展了销售领域,并且渗透到商业建筑市场。
  Following the war, the stage was set for a new era in Bobrick's development. In 1946, William S. Louchheim became a partner and managing officer of the Company, bringing to Bobrick an extensive background in engineering and banking. In 1948, Gordon S. Bodek joined the firm and assumed the responsibility for soap dispenser sales. The Company had already moved to a 16,500 square foot plant and resumed full-scale manufacturing of soap dispensers, broadening its sales and penetration into the commercial building market.
  1956年,也就是公司成立50周年之际,美国保必丽皂液器设备的样本资料已经达到4页双色,各种各样的皂液器销售遍布全美国,并开始进入卫生洁具市场。1950年代后期,公司经营重点主要集中在不断拓展和开发产品,以满足新的建筑市场的需求。
  By 1956, the Company's 50th year, Bobrick offered a four-page, two color catalog of soap dispensing equipment which was being sold throughout the United States, primarily in the sanitary supply market. In the late 1950's the Company undertook an emphasis on product expansion and development geared to the needs of the architectural and new construction markets.
  1959年,美国保必丽聘请公司的第一位建筑师代表 - 美国密苏里州圣路易斯的李•汉利先生 。李先生同时也为美国保必丽的销售团队服务。为了建立最好的服务机构,满足建筑市场的需求,美国保必丽不遗余力地精心挑选更多的建筑师代表,这些建筑师代表许多都拥有工程技术和建筑双学历。
  In 1959, Bobrick hired its first Architectural Representative - Lee Hanley of St. Louis, Missouri. Lee is still serving on the Bobrick sales team. In an effort to develop the best service organization for the construction market, Bobrick continued to add carefully selected Architectural Representatives, many with engineering and architectural degrees.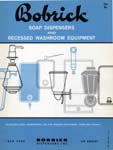 1961年样本封面
1961 Catalog Cover  1961年,美国保必丽有了一个重大的突破,成功开发出一系列独特的入墙式不锈钢多用途装置。这是一种卫生间设施的全新创意,它将各种卫生间附件组合在一个体积很小的装置内。建筑物业主和建筑师认为这种新型装置是半个多世纪以来最有意义的进步。这种新型装置极大地改善了卫生间的外观,卫生间空间得到更加有效的利用,极大地减少了安装成本和日常维护成本。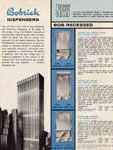 1961年样本页面
1961 Catalog Page  In 1961, the big breakthrough came with Bobrick's introduction of a unique line of recessed stainless steel multi-purpose units. An entirely new concept in washroom equipment, it combined various washroom accessories into a single space-saving cabinet. Building owners and architects called the new line the most spectacular advancement in commercial washroom equipment in half a century. The new units dramatically improved the appearance of the washroom, made more efficient use of space and reduced installation and maintenance costs.


加利福尼亚州北好莱坞
North Hollywood, CA  1964年,美国保必丽公司成立国际部,在澳洲、欧洲、亚洲、远东、中东、中美洲、南美洲和非洲销售也经销美国保必丽入墙式和外露式卫生间附件。
  In 1964, Bobrick International was established to sell and distribute Bobrick's recessed and surface-mounted washroom accessories in Australia, Europe, Asia, Far East, Middle East, Central/South America, and Africa.
  1966年,美国保必丽公司在美国加利福尼亚州北好莱坞32,000平方英尺新总部办公大楼庆祝60周年生日。一系列"第一次"发明的产品为公司带来跳跃式的发展。当时,美国保必丽公司的产品样本已经达到24页,包括250种卫生间设备产品。
  By 1966, the Company was celebrating its 60th year in a new 32,000 square foot headquarters building in North Hollywood, California. The number of product "firsts" was now growing by leaps and bounds. So was the Company: Bobrick's catalog jumped to 24 pages that year and included 250 washroom equipment products.


小威廉•S•洛凯姆
William S. Louchheim, Jr.  1970年,威廉•S•洛凯姆成为董事会主席,戈登•S•博德克被任命为总裁,小威廉•S•洛凯姆于1968年加入公司,成为美国保必丽公司财务总监。
  In 1970, William S. Louchheim became Chairman of the Board; Gordon S. Bodek was named President; and William S. Louchheim, Jr. who joined the Company in 1968, became Bobrick's Treasurer.
  在随后的十年里,美国保必丽公司又取得许多重大的进展,开发了三个完整系列的卫生间附件、卫生间隔断以及与层压塑料相关的产品,成为唯一能够同时提供卫生间附件和卫生间隔断的卫浴设备制造商。美国保必丽公司于1970年开发卫生间隔断。这种隔断具有前部冲洗的建筑功能和隐蔽式不锈钢五金件的建筑特征,与金属隔断相比是一种独特的令人耳目一新的完整隔断,并成为当时隔断行业的标准。1972年,美国保必丽公司开发了第一种卫生间壁橱中心。1973年,美国保必丽公司成立了第一个淋浴间隔断 - 专门生产制造坚固耐用色彩丰富免维护层压塑料。
  In the decade that followed, Bobrick made tremendous strides developing three complete lines of washroom accessories as well as toilet partitions and related laminated plastic products- to become the only washroom equipment manufacturer offering both accessories and toilet partitions. Bobrick toilet partitions were introduced in 1970. Featuring architectural flush-front styling and hidden stainless steel hardware, they were unique and exciting – a complete departure from the metal partitions that were then the standard of the industry. In 1972, the Company introduced its first vanity centers and in 1973, its first shower dividers – all made of tough, colorful maintenance-free laminated plastic.
  1974年,美国保必丽公司将设计理念又向前推进,开发了Designer Series™(设计师系列)入墙式卫生间附件,采用实心酚醛材料制作的门以及完整的卫生间隔断产品系列,成为能够提供色彩匹配的卫生间附件和卫生间隔断的唯一制造商 - 此外还为现代卫生间设计了全新的卫生间附件产品。
  In 1974, Bobrick further advanced their design concept with the introduction of "Designer Series™" recessed washroom accessories with solid phenolic doors that complemented the toilet partition line, becoming the only manufacturer to offer color-matched washroom accessories and toilet partitions - adding a new design dimension for the modern washroom.


B-750残疾人/无障碍AirCraft干手器
B-750 ADA/Barrier-Free
Compliant Aircraft Hand Dryer  1986年,美国保必丽开发了AirCraft™入墙式和外露式干手器和头发干燥器(吹风机)。AirCtaft系列干手器包括头发干燥器(吹风机)行业第一种自动干手器,并具备无法破坏的铸铁加玻璃质珐琅外壳。
  In 1986, Bobrick introduced its AirCraft™ recessed and surface-mounted warm air hand and hair dryers. The AirCraft dryers included the industry's first recessed automatic hand dryer and featured indestructible cast iron with vitreous enamel covers.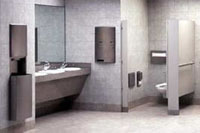 刚弧系列
Contura Series  1993年是一个具有重大历史意义的一年,美国保必丽公司开发了ConturaSeries™(刚弧系列)卫生间附件。ConturaSeries™(刚弧系列)卫生间附件具有创新的圆润外观。第二件大事是收购了卫生间隔断和零售试衣间制造商Thrislington Cubicles公司,使得美国保必丽公司的产品系列增加了欧式卫生间隔断系列。
  1993 was a big year. Bobrick introduced the "ConturaSeries™" washroom accessories. The "ConturaSeries™" provided an innovative alternative look to washroom accessories with its rounded front. The second big event was the acquisition of "Thrislington Cubicles", a toilet partition and retail fitting room manufacturer, adding a European style of toilet partition to the Bobrick product line.


马克•洛凯姆
Mark Louchheim  此外,1993年,马克•洛凯姆作为洛凯姆家族的第三代,成为美国保必丽公司的总裁。桑迪•洛凯姆成为Circa信息技术公司总裁。
  Also, in 1993, Mark Louchheim became the third generation of Louchheim's to become president of Bobrick. Sandy Louchheim became the president of Circa Information Technologies.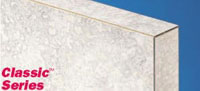 1995年,开发了ClassicSeries™(典雅系列)卫生间隔间,在美国保必丽产品系列中增加了可接受的低成本层压塑料隔断。
  In 1995, the "ClassicSeries™" toilet compartments were introduced, adding a viable low-cost plastic laminate partition to the Bobrick product line.


美迪系列
Matrix Series  1997年,美国保必丽公司开发了MatrixSeries™(美迪系列)外露式卫生间附件,外观更加时尚,并且坚固耐用,价格低廉适中。
  In 1997, Bobrick introduced the "MatrixSeries™" offering an attractive design-integrated family of durable, surface-mounted plastic washroom accessories priced for low to moderate budgets.


B-740 Eclipse(日食)干手器
B-740 Eclipse Dryer  2000年,美国保必丽公司的干手器产品阵营中增加了具有时尚外观的Eclipse(日食)系列干手器。这种新型感受其外观新颖独特,性能可靠,坚固耐用。加上另外一个系列的新型低价Cub(童子)干手器,美国保必丽公司成为一家干手器公司。
  In 2000, the innovatively styled "Eclipse" Warm Air Hand Dryers were added to Bobrick's hand dryer product line. The new dryers combined unique design, reliable performance, and durability. Together with the addition of the new, low priced Cub Dryer, Bobrick becomes "The Dryer Company™."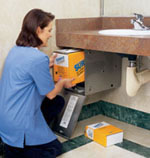 2001年,美国保必丽公司开始走进新时代,以全新的皂液器创意开发了SureFlo™皂液器系统和SureFlo™洗手液。这种系统将单个台面下安装的皂液器组合成多个洗脸盆安装的皂液器。这种系统可供13,000次洗手用皂液,所包括的皂液罐可以额外增加2,000次洗手用。这种新型系统使得建筑物管理者能够管理控制皂液器,降低使用成本。
  In 2001, Bobrick starts a new century with the introduction of a new concept in soap dispensers with the introduction of its SureFlo™ Soap Dispensing System and SureFlo™ Hand Soaps. The new system links a single under-the-counter soap cartridge with multiple lavatory mounted soap dispensers. The system can deliver up to 13,000 hand washes and includes a reservoir, which supplies 2,000 additional hand washes. The new system allows building managers to take control of soap dispenser performance and costs for true value.

  2002年,美国保必丽公司主动发起一场销售、营销、广告和经销组合活动,使自己成为北美地区最大的层压塑料和实心酚醛材料卫生间隔断制造商。
  In 2002 Bobrick launched an integrated sales, marketing, advertising, and distribution initiative to become the number one manufacturer of plastic laminate and solid phenolic toilet partitions in North America.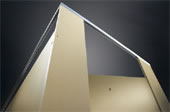 2004年,美国保必丽公司开发了SierraSeries™系列实心彩色强化复合材料(SCRC)卫生间隔断,以满足学校和其他经常遭受滥用或粗暴使用卫生间的市场需求。美国材料实验协会ASTM测试证实实心彩色强化复合材料(SCRC)清除乱涂鸦后不留污渍痕迹而且抗刮擦,性能比其他材料的卫生间隔断要优异得多,而且,SCRC材料其防火等级达到B类级别。
  In 2004 Bobrick introduced the SierraSeries™ Solid Color Reinforced Composite (SCRC) Toilet Partitions for the school market and other heavy-use and abuse, vandal-prone washrooms. ASTM testing confirms SCRC's non-ghosting graffiti removal and scratch resistance is superior to other widely-marketed toilet partition materials and SCRC has a Class B interior finish fire rating.
  2004年,美国保必丽公司收购了Koala有限公司旗下的Koala Convenience and Activities部门。美国保必丽的Koala Kare(考拉康儿)产品部是尿布更换站、婴儿座和活性产品的主要制造商,专用于商业、运输、娱乐和酒店中带婴儿的家庭。
  In 2004 Bobrick acquired the Koala Convenience and Activities Division from the Koala Corporation. Bobrick's Koala Kare Products division is the leading manufacturer of diaper changing stations, child seating, and activity products used in commercial, transportation, amusement and restaurant properties serving families with children.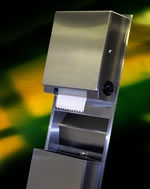 2004年,美国保必丽公司开发了一系列外露式无滚轴纸巾架。无滚轴纸巾架某种程度上防止了卫生敏感的卫生间里的交叉感染。这种装置替代了过去常用的滚轴式卫生纸架。
  In 2004 Bobrick introduced a line of surface-mounted recessed and Lever-Less Roll Paper Towel Dispensers. Lever-Less pull-towel dispensing prevents cross contamination in hygienic-sensitive washrooms. These units dispense universal roll paper towels.

  2006年,美国保必丽公司从Masco有限公司的自由五金集团那里收购了通用附件制造公司(GAMCO)。美国保必丽公司的GAMCO部门专门生产用于非住宅建筑的卫生间附件用的不锈钢及其他特种金属材料。
  In 2006 Bobrick acquired General Accessory Manufacturing Company (GAMCO) from the Liberty Hardware Group of the Masco Corporation. Bobrick's GAMCO Division manufactures stainless steel, as well as specialty metal and finish washroom accessories used in non-residential buildings.
  现在,美国保必丽公司在三个地方为美国消费者提供服务:位于加利福尼亚州北好莱坞的公司总部和主厂,位于纽约州克林顿公园和田纳西州杰克逊的制造基地、用户服务设施和经销中心。在加上位于美国科罗拉多州Centennial的Koala Kare产品部,位于俄克拉荷马州杜兰特的GAMCO部,加拿大总部以及位于加拿大多伦多的制造厂。美国保必丽国际部的业务代表遍布欧洲,澳洲,远东,中东,非洲,中美洲和南美洲,以及南太平洋岛屿。在联合王国(英国),欧洲大陆和澳大利亚有经销中心为这些市场提供支持。
  Today, Bobrick serves U.S. customers from three locations: the Corporate Headquarters and main plant in North Hollywood, California, plus manufacturing, customer service facilities and distribution centers in Clifton Park, New York, and Jackson, Tennessee. In addition, there is the Koala Kare Products Division in Centennial, Colorado, the GAMCO Division in Durant, Oklahoma and the Canadian Headquarters and manufacturing plant in Toronto, Canada. Bobrick International has representatives in Europe, Australia, the Far East, Middle East, Africa, Central and South America, and the South Pacific Islands. Distribution centers have been added in the United Kingdom, continental Europe, and Australia to support these markets.