面对着亚洲市场的萎缩,越来越多的美国加州公司将出口方向转向拉丁美洲,欧洲和其他更有前景的地区。但是,没有人会认为这样做会迅速提高出口额,分析家说,对于美国加州的出口上来说,转移出口方向是缓慢的、危险的,原因在于较高的运输成本,缺乏可靠的外国银行,以及其他地理和历史的因素。
  Faced with declining markets in Asia, a growing number of California companies are gearing up to shift exports to Latin America, Europe and other more promising regions. But no one thinks that will take up the slack, and analysts say the shift for many California exporters will be slow and risky because of higher shipping costs, lack of certain foreign banks in the region and other geographical and historical factors.
  此外,为了更加有效地克服经济困难,亚洲各国不顾一切的大力支持本国出口,这肯定使得加州和美国其他地区的出口上遇到更加激烈的国际竞争。
  Moreover, export companies based in California and the rest of the United States are certain to confront tougher competition globally, as Asia bolsters its exports in a desperate bid to strengthen its battered economies.
  对美国加州来说,最有吸引力的出口市场显然是拉丁美洲各国。其经济状况,除了巴西以外,今年的增长速度有希望比世界其他地区更高。尽管墨西哥是美国加州的第3大出口国,但是美国加州公司去年出口到南美前五大国家的产品仅占加州总产值的2%,而出口到亚洲前五大国家却占到4%.
  The most attractive export markets for California appear to be in Latin American countries, whose economies, with the exception of Brazil, are expected to grow more rapidly this year than any other region in the world. Although Mexico is the state's No. 3 export country, California companies last year shipped only about 2% of the state's total goods in dollar value to the top five South American markets, compared with almost 40% to the top five Asian export nations.
  但是,这种状况将可能变化,来自亚洲的贸易寒流促使美国加州的一些公司考虑出口地区的多元化。位于美国加州的美国好施集团国际部在亚洲经济腾飞阶段出口了大量的卫生洁具和热水器到亚洲国家,现在则考虑在美国佛罗里州的迈阿密建立仓储设施,以便提高出口到巴西和阿根廷的运输速度。
  But that could change, as the cold trade winds from Asia have prompted some companies in California to consider diversifying. Hirsch Pipe & Supply Co. in Van Nuys, which has long relied on Aisa's booming demand for plumbing and heating products, is now considering opening a warehouse in Miami, for quicker shipment of its goods to Brazil and Argentina.
  格瑞·马利,美国好施集团出口部经理说,他还在寻找中东、东欧甚至非洲的商业机会。出口到亚洲的出口额以前占美国好施集团国际部出口总额的75%,但是今年出口的亚洲的出口额缩占比重可能会萎缩到30%至40%。格瑞说,他不得不寻找新的市场。
  "我们进入的市场越多,日子就越好过,"他说。
  Greg Mariscal, Hirsch's export manager, says he is also pursuing opportunities in the Middle East, Eastern Europe and possibly Africa. Asia currently makes up 75% of Hirsch's international sales, which account for a quarter of the company's overall annual revenue of $30 million. But with sales to Asia likely to fall off 30% to 40% this year, Mariscal says he will have to chase new markets.
  "The more markets we're in, the better," he said.
  象美国好施集团这样的公司是否能够成功,对于比较依赖出口的美国加利福尼亚州的经济具有很重要的影响。美国加州去年的商品出口额估计为1100亿美元,主要出口商品是电子、计算机和工业设备。此外还有电影、软件和技术服务,这些行业的出口状况还没有被详细研究。经济学家认为,美国加州的出口额在全州产值中大约占16%,比全美国11%的平均值高。
  Whether companies like Hirsch succeed has significant repercussions for the state's economy, which relies more on exports than other states. California's merchandise exports last year have been estimated at $110 billion, much of it electronics, computers and industrial equipment. Adding foreign sales of motion pictures, software and engineering services, which are not tracked precisely, economists say California's exports account for as much as 16% of the state's economic output, compared with less than 11% for the nation as a whole.
  今明两年,已经可以肯定美国到亚洲的出口将会下降,但是下降的幅度还不清楚。今年出口亚洲的货物的54%已经发运,而全美国只有30%。
  While U.S. exports to Asia are almost certain to decline further in the next year or two, the magnitude of the drop is unclear. California currently sends about 54% of its total exports in dollar value to Asia, whereas about 30% of all U.S. exports go to Asia.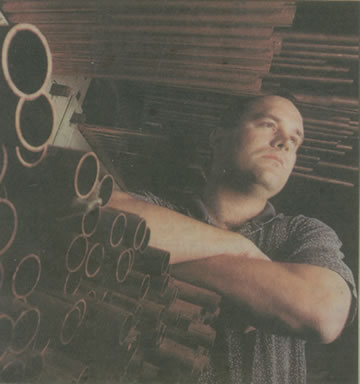 BRIAN VANDER BRUG/《洛杉矶时报》
格瑞·马利,美国好施集团国际部经理:
当亚洲市场萎缩时,将产品出口到世界其他地区。
BRIAN VANDER BRUG/Los Angeles Times
Greg Mariscal, managing director for international
sales at Hirsch Pipe & Supply, a Van Nuys firm
that is exporting to other parts of the world as
Asian market shrinks.
贸易地区
Trading Places
  由于亚洲金融危机的影响,出口商将其注意力转向拉丁美洲和欧洲市场,因此预计美国加州到亚洲的出口额将会减少。实际上,美国加州出口到几个亚洲国家或地区的出口额在1997年第二季度开始下滑。下表是去年(1997年)四月至六月的前20位出口市场:
  As a result of the financial crisis in Asia, California's exports to the region are expected to decrease as exporters shift their attention to markets in Latin America and Europe. But the state's exports to several Asian countries had already started to slide in the second quarter of 1997. The state's top 20 export markets from April to June last year:
排名


Rank

国家


Country

1997年第二
季度出口额
(十亿美元)
Exports in
second
quarter
1997,
in billions
于去年同期相
比的变化率
Percent change
(2nd quarter '96
to 2nd quarter '97)
1
日本 Japan
$8.99
-8.90%
2
加拿大 Canada
$5.73
3.27%
3
墨西哥 Mexico
$5.24
25.29%
4
韩国 South Korea
$3.76
-18.11%
5
台湾 Taiwan
$3.06
15.49%
6
新加坡 Singapore
$2.79
-10.43%
7
英国 Britain
$2.57
4.33%
8
香港 Hong Kong
$2.05
19.91%
9
德国 Germany
$1.20
0.57%
10
荷兰 Netherlands
$1.55
30.16%
11
马拉西亚 Malasia
$1.35
-27.00%
12
法国 France
$1.21
-0.29%
13
泰国 Thailand
$1.19
-0.51%
14
澳大利亚 Australia
$1.18
16.82%
15
菲律宾 Philippines
$1.02
-1.35%
16
中国 China
$0.99
11.05%
17
瑞士 Switzerland
$0.63
-0.89%
18
比利时 Belgium
$0.59
19.84%
19
意大利 Italy
$0.56
-4.57%
20
巴西 Brazil
$0.56
-0.30%
资料来源:美国加州贸易商业厅商业部。《洛杉矶时报》JENNIFER OLDHAM收集
Source: California Trade and Commerce Agency; Commerce Department Researched by JENNIFER OLDHAM/Los Angeles Times.