氨基甲酸乙酯刀闸阀设计与结构
Urethane Knife Gate Valves
Design and Construction
  美国DeZurik(德朱瑞克)氨基甲酸乙酯刀闸阀专用于采矿业的关断和节流应用场合。这种阀门适用于磨粉浆和干燥研磨物质的处理应用。温度范围为:-40 to 82oC
  DeZurik's Urethane Knife Gate Valves are designed for on-off and throttling applications in the mining industry. They are designed for abrasive slurry and dry abrasive material handling applications. Temperature ratings are -40 to 180oF (-40 to 82oC).
  氨基甲酸乙酯刀闸阀可提供的通径为DN100~DN600。这种阀门配置一件式定点浇铸衬垫。通径DN100~DN300、压力等级150 psi的刀闸阀具备双向、不滴漏关断性能。阀体上所有可能被弄湿的表面都采用氨基甲酸乙酯进行衬垫。闸板材质选项包括304和316不锈钢。
  Urethane Knife Gate Valves are available in sizes 4-24" (100-600mm). They feature a one-piece cast-in-place liner that provides bi-directional, drip-tight shutoff to 150 psi (1030 kPa) on 4-12" (100-300mm) valves. All wetted surfaces of the body are lined with urethane. Gate material options include 304 and 316 stainless steel.
对夹式阀体
Wafer Body
  对夹式面对面结构节省管线空间,重量更轻,也更容易安装。对夹式结构也意味着阀门强度更高。法兰之间的支撑肋能够抵抗由于管线没有对齐而产生的拉力。法兰的钻孔和攻丝符合美国国家标准化组织ANSI 125/150, DIN 10(BS 4504/10), DIN 16 (BS 4504/16), JIS 10, AS2129表D和E的标准。阀门也可以配置法兰螺栓孔,用于贯穿式螺栓,但不能穿过阀腔区域。
  The wafer face-to-face design saves pipeline space, is lightweight and is easy to install. The wafer design also means extra valve strength. Supporting ribs between flanges resist strains from piping misalignment. Flanges are drilled and tapped to the ANSI 125/150, DIN 10 (BS 4504/10), DIN 16 (BS 4504/16), JIS 10, AS2129 Table D and E. Valves can also be furnished with flange bolt holes drilled for through bolting, except in the chest area.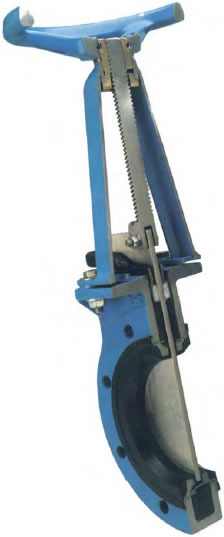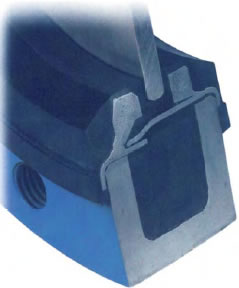 一件式,定点浇铸衬垫
One-Piece Cast-In-Place Liner
  氨基甲酸乙酯衬垫采用定点浇铸工艺,在整个阀体、阀腔、填料腔和法兰面区域表面形成全面连续的覆盖衬垫。一件式衬垫的结实耐用的氨基甲酸乙酯阀座部分也覆盖了阀门内部表面。这种氨基甲酸乙酯延展覆盖到法兰表面,起到阀门法兰衬垫的作用。因此不需要在增加衬垫。
  The urethane liner is cast in place to form a continuous liner throughout the entire body, chest, packing chamber and flange face area. The robust urethane seat portion of the one-piece liner covers the interior of the valve. The urethane liner extends over the flange face to serve as the valve's flange gasket. No additional gaskets are required.
阀体加固肋
Body Reinforcing Ribs
  加固肋提供实心上部结构安装,提高了阀体的强度。加固肋确保填料腔的支撑强度以抵抗来自内部和外部的压力。
  Reinforcing ribs provide a solid superstructure mount and give the body added strength. Placement of the ribs assures packing chamber support to resist both internal and external stresses.
ISO 9001/9002认证
ISO 9001/9002 Certification
  美国DeZurik认证表明其致力于不断改进品质,不断提高丰富产品性能。美国DeZurik(德朱瑞克)公司于1993年获得第一个认证后,不断的改进设计、制造、订单处理和用户服务等方面的工作。
  DeZurik's ISO certifications represent its commitment to ongoing quality improvements and dedication to higher levels of performance. DeZurik received its first certification in 1993, and continues to improve all aspects of design, manufacturing, order processing and service to DeZurik customers.