Partner with us and reap the benefits:
Bundled products & solutions for significant savings
Single source for wide breadth of highest-quality products
Depth of solutions from curb to fixture
One source for service and support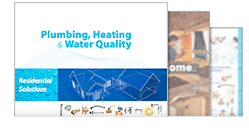 We are a proud member of the NAHB Leading Suppliers Council. This council promotes the increased use of systems building through education and advocacy, and serves as a resource to the NAHB members and public. The NAHB produces a show home demonstrating "Builders Best Practices," concepts, materials, design, and construction techniques annually at the IBS show.

Your Preferred Provider with HomeSphere
We've partnered with HomeSphere to provide builders with access to exclusive bundles of standard and specialty residential products that increase a home's value.

Proud Participant in the New American Home
We're excited to take part in the 2014 New American Home project, a collaboration between the NAHB Leading Suppliers Council and BUILDER, the official magazine of The New American Home, the International Builders' Show, and the National Association of Homebuilders (NAHB). The new 5,900 sq. ft. home will be available for touring during the International Builders' Show (IBS) on February 4-6, 2014 in Las Vegas.