美国新颁布的无铅产品法律

The New Lead Free* Law
On January 4, 2014 the "Reduction of Lead in Drinking Water Act," more commonly known as the Lead Free law, went into effect. The new national mandate requires that every pipe, fixture, and fitting used to convey water for potable use contain less than 0.25% of lead by weight.
Here at Watts, we are committed to helping you plan for this transition—so we've compiled a comprehensive set of resources at www.WeAreLeadFree.net. Our collection of tools, which includes a product lookup guide, FAQs, videos, and more, is designed to help you successfully handle the Lead Free changeover.
---
Need to locate Lead Free products? We've got the answers in our Product Lookup Guide.
---
We know it's critical to quickly and easily identify Lead Free products and part numbers. Take a look at our website to learn more.
---
查找无铅声明

Look for the Lead Free Statement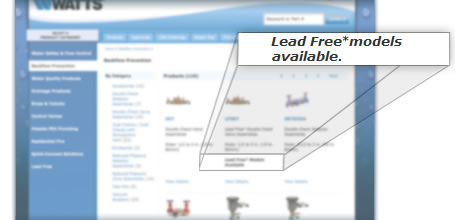 Finding Lead Free* products couldn't be easier, simply look for the Lead Free statement. The Lead Free statement lets you know that Lead Free* models are available as part of that series.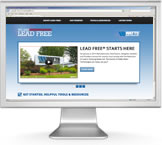 Building on our partnership with Watts Water Technologies, we have developed the online home for the Lead Free plumbing movement.
更多资料信息

More Information
---
A listing of series with Lead Free models available.
---
Download the item's Lead Free NSF Certificate if available.