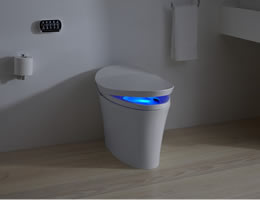 美国科勒Veil智能连体座便器

KOHLER VEIL 1-PIECE INTELLIGENT TOILET
The Veil Intelligent wall-hung toilet offers integrated personal cleansing while saving up to 8 inches of precious bathroom space over Kohler®'s longest floor-mount models. The mounting hardware is completely concealed, giving Veil a sleek, seamless look that is incredibly easy to clean. Its sculpted core delivers a suite of precision features finely tuned to provide optimum hygiene and ultimate individual comfort, from personal cleansing to an LED nightlight to hands-free opening, closing and flushing. All of the features are easy to control on a touchscreen LCD remote control. In addition to the remote, you can control the Full and Eco flush using the touchless, Honed White actuator plate included with the toilet. Features include:
Elongated bowl offers added room and comfort
Mounting hardware is completely concealed for sleek looks and easy cleaning
Dual flush offers a choice of 0.8 or 1.6 gpf
Stainless steel wand offers adjustable spray shape, position, water pressure, temperature, pulsate and oscillate functions
Front and rear wash modes provide warm water for cleansing
Self-cleaning function uses UV light and electrolyzed water systems to sanitize the wand surfaces
Warm-air drying system with adjustable temperature settings
Automatic deodorization system
Heated seat with adjustable temperature settings
Motion-activated, hands-free opening/closing of cover
Automatically flushes toilet after use
LED lighting illuminates the bowl to serve as a night-light
English-language touchscreen LCD remote control
Touchless™ actuator plate in honed white
Touchscreen LCD remote
120 VAC 15 A 60 Hz one dedicated circuit required
5-1/2 in seat-mounting holes
SHOP NOW on Hirsch.com .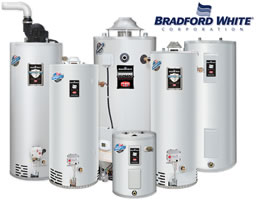 美国百来福热水器

BRADFORD WHITE WATER HEATERS
Hirsch is a proud distributer of Bradford White Water Heaters from the Bradford White Corporation - a team of American-owned companies that designs, engineers and builds water heating, space heating, combination heating and storage solutions for residential, commercial and industrial applications. We have a huge array of Bradford White products and whatever your need is, wehther it's residential or commercial, gas or electric, Hirsch has it!
And don't forget..we also offer GUARANTEED 90 minute delivery on commercial water heaters or we'll pay YOU $50!
SHOP NOW on Hirsch.com .