美国仕龙更新改造冲水阀

SLOAN RETROFIT FLUSHOMETER
With more focus on hands free fixtures, retrofitting existing toilets is a great add on to meet shifted customer demands like with the above Sloan® Active Infrared Retrofit Flushometer. Check out some benefits below:
省水又省钱

Save water and money
Flushing toilets uses a lot of water, especially in a busy restroom. Sloan retrofits, including Sloan's innovative dual flush technology, provide high-efficiency options to help reduce water consumption.
改善卫生环境

Improve hygiene
No one likes to touch surfaces in a bathroom. Sloan retrofits provide a variety of products to convert existing manual flushometers to hands-free sensor-operated flushometers.
点击这里 浏览此产品所有说明书。
Click here to view this product and full specs.
点击这里 浏览我们所有的自动冲水阀。
Click here to see all of our automatic flush valve products.
【注】:由于不明原因,在中国大陆,目前手机无法点击打开上列两个网页,只能在电脑上浏览观看。
美国艾肯瓶装净水站

ELKAY BOTTLE FILLER STATION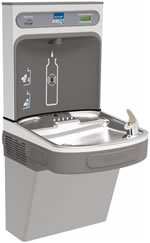 The Elkay EZH2O Bottle Filling Station delivers a clean quick water bottle fill and enhances sustainability by minimizing our dependency on disposable plastic bottles.
特点

Product Features:
Complete cooler and bottle filling station in a consolidated space saving ADA compliant design
Bottle Filler features sanitary no-touch sensor activation with automatic 20-second shut-off timer
Quick Fill Rate
Green Ticker counts the quantity of bottles saved from waste
Features 3000 gallon capacity WaterSentry Plus filtration with visual LED Filter Monitor to indicate when replacement is necessary
点击这里 浏览此产品。
Click here to view this product.
点击这里 查看我们所有的水分配和过滤产品。
Click here to check out all of our water dispenser and filtration products.
【注】:由于不明原因,在中国大陆,目前手机无法点击打开上列两个网页,只能在电脑上浏览观看。