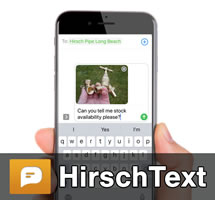 美国好施短信

HIRSCHTEXT
一个电话号码就把事都做了

ONE Phone Number Does It All!
We know you're on the go and sometimes you don't have time to make a phone call to place your order or ask questions. Now with HirschText - talking to your Hirsch branch has never been easier! Simply send a text to your local branch phone number and we'll get back to you right away.
想要下个单子?Need to place an order? Just text us the parts! No waiting on the phone while we place the order. You can even text us when you're outside for quick-pick up.
想了解价格和是否有现货?Wondering about a price or inventory? One quick text and we'll get you the answers you need, quick and conveniently.
不确定自己的工程需要配置哪些产品?Not sure what product you're looking at on the jobsite? Snap a picture and text it to us! We'll let you know what it is, the stock, price and so much more.
Just another way Hirsch helps you get the job done - FAST!
【注】:由于不明原因,在中国大陆,目前手机无法点击打开上列网页,只能在电脑上浏览观看。这项功能只适用于美国本土手机或电话。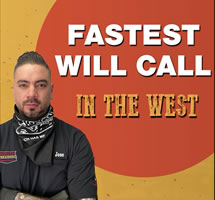 美国西部最快的答复

FASTEST WILL CALL IN THE WEST
30分钟之内就答复电话订单

30 Minute or Less Will Call Orders
Now that you're up to speed on our HirschText feature, one way to use it is to place Will Call orders! With our new 30 minutes or less 保证 GUARANTEE on will call orders, that means when we receive that order via text - you can count on Hirsch to have it ready for pick up within half an hour! If not, we'll take $10 off your order on the spot.
Ordering with Hirsch means you can order how you want, when you want. If you're an online shopper, simply select Will call pick up when you're checking out and that same quick turn around is still guaranteed during operating hours. Prefer to make a call and chat with your local branch? No problem. When you place an order by phone it's that same 30 minute promise.
【注】:由于不明原因,在中国大陆,目前手机无法点击打开上列网页,只能在电脑上浏览观看。