In the past few months you may have noticed Branch manager shifts across Hirsch. As we continue to promote from within, we feel fortunate to have managers who possess the customer service skills, positive attitude, and leadership necessary to be an asset to our customers at any of our locations.
Jose Herrera, Previous manager of Chula Vista, is now the Branch Manager of our Los Angeles branch - aloowing prior manager, Frank Carrillo to further fill his rol as regional branch manager. Hose has been an instrumental contributor to the success and development of the entire San Diego region and we know he will do a tremendous Job in Los Angeles!
Drew Dezara, previous Kearny Manager Branch Manager, has now taken on the role of Branch Manager in San Marcos. Drew has been instrumental to the development of the San Diego region and we are confident he will be a great leader for the San Marcos team.
Sal Villavicencio, previous San Marcos Branch Manager, has moved to San Juan Capistrano as Branch Manager. Sal has contributed greatly to the success of the San Marcos branch and he has already brought that momentum into his new position at San Juan Capistrano.
Steve Johnson, previous San Juan Capistrano Branch Manager, is now at Costa Mesa as Branch Manager. Steve has many strong in Costa Mesa from his prior time serving that area so we know he'll fit into this role like a glove.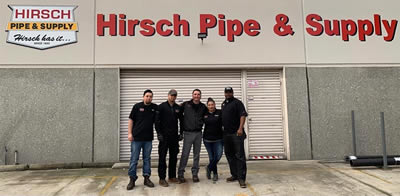 John Herrera, previous Costa Mesa branch manager, will be moving to the Redlands location as Branch Manager. John has been a great leader in Costa Mesa location, and we know he will have the same impact in Redlands as he fills in for Larry Davis - allowing him to further expand on his role as regional manager.
We'd like to make a special introduction to our 2 new branch managers who have been promoted and brought into the fold during this transitionary time here at Hirsch. Please join us in welcoming Ulysses Ruiz and Larry Bishop!
Ulysses Ruiz, previously serving as Assistant Manager at the North Hollywood location, has moved to the San Diego region as the Branch Manager of the Chula Vista Branch. Hear form Ulysses himself on how excited he is on this promotion and his priorities as he takes on this new role.
Larry Bishop has been promoted to Branch Manager of the Kearny Mesa branch. Larry has been a key contributor to the growth and success of the San Marcos location. Larry has progressed through Hirsch's career track demonstrating excellence at every level, and hear directly from him on how he plans to handle this new role.
Above all, the commitment here at Hirsch is to make sure our customers have the service they deserve - and we are more than confident that all of these moves will contrinue to make sure we not only meet that promise, but continue to get better at it every day.
-Steve Shipley
Director of Branch Operations