1804至1810年 - 美国第一个铸铁管道系统
1804-1810 - First cast-iron pipe system in America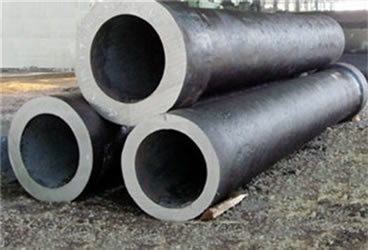 费城成为美国第一个从原木管道系统改为铸铁管道系统的城市。更耐用的铸铁管道系统使得费城居民能够更好地调节水压,效果比原先的木质管道系统好多了。
Philadelphia became the first U.S. city to switch from wooden log pipes to a cast-iron system. The more durable plumbing system allowed users to regulate water pressure far better than with wooden piping.
1815年 - 首次出现水可用性概念,首次采用的水安全措施
1815 - First water availability and safety measures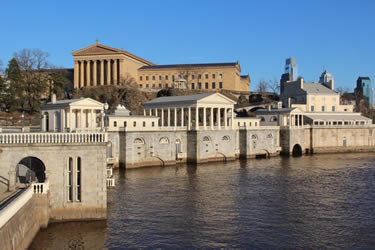 费城也是美国第一个将安全的、可随时使用的供水作为城市基础设施建设治理需要解决的问题的城市。费尔蒙水厂系统利用横跨舒尔基尔河的水坝和水轮取代了低效的蒸汽机系统。 这些水直接通过管道输送到付费用户的企业和家庭,并通过消防栓向任何有水桶的人提供免费水。
Philly was also the first U.S. city to approach a safe and readily available water supply as a municipal governance issue. The Fairmount Water Works system replaced its inefficient steam engine system with a dam and water wheels across the Schuylkill River. The water was piped directly to the businesses and homes of paying customers, and free water was provided via fire hydrants to anyone with a bucket.
1829年 - 第一家采用给排水系统的酒店
1829 - First hotel with plumbing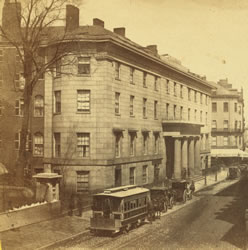 波士顿的特里蒙特酒店成为第一家为客人提供室内给排水系统的酒店。由建筑师艾赛亚•罗杰斯设计的特里蒙特酒店被认为是美国第一家现代化酒店。除了室内厕所和自来水,特里蒙特酒店还提供免费的肥皂,供客人方便使用。
The Tremont Hotel of Boston became the first hotel of its kind to offer indoor plumbing for guests. The Tremont, designed by architect Isaiah Rogers, is considered the first modern hotel in the United States. In addition to featuring indoor toilets and running water, it offered free soap for guests to use at their convenience.
1833年 - 白宫内的第一个给排水系统
1833 - First plumbing in the White House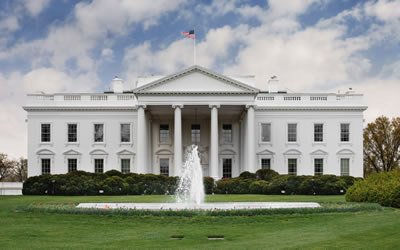 这很奇怪,但却是真的:一家豪华的酒店比白宫还早安装了给排水系统。在安德鲁•杰克逊担任总统之前,白宫用水一直是从邻近的财政部大楼的一口井中泵入到白宫内。而给排水系统直到1833年才在总统的住宅中被采用,那时,给排水系统也只限于在主楼上使用。直到20年后,在富兰克林•皮尔斯担任总统期间,二楼才看到了给排水系统。
It's odd, but true: A fancy hotel installed plumbing before the White House did. Until Andrew Jackson's presidency, water was pumped to the White House from a well at the neighboring Treasury Building. Plumbing wasn't introduced at the presidential home until 1833 - and then, it was only available on the main floor. The second floor wouldn't see plumbing until 20 years later, during the presidency of Franklin Pierce.
1835至1842年 - 第一座市政级的水库
1835-1842 - First municipal reservoir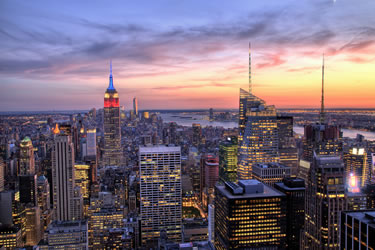 1835年,纽约利用克罗顿河的水,开始为市中心曼哈顿建造第一座引水渡槽和水库系统。当1842年投入使用时,这个系统每天为城市居民提供约7200万美制加仑(2亿7千万公升)的淡水。
In 1835, New York began building its first aqueduct and reservoir system for midtown Manhattan, using water from the Croton River. When put into service in 1842, the system delivered city residents about 72 million gallons of fresh water a day.
1848年 - 英国国家公共安全法
1848 - National Public Health Act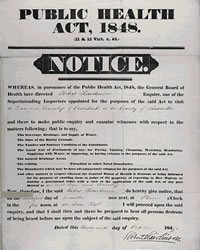 英国通过了《国家公共卫生法案》,其中包括关于水卫生和安全的规范,并成立了一个中央健康委员会,以应对几次严重的霍乱爆发。该法案有其缺陷,但也可以作为后来的公共安全法案的蓝图。它被公认为公共卫生史上最伟大的里程碑之一,现已被世界各国采纳和利用。
England passed the National Public Health Act - which included notes on water health and safety and established a Central Board of Health - in response to several severe outbreaks of cholera. The act had its flaws, but served as a blueprint for later public safety acts. Recognized as one of the greatest milestones in public health history, it has been adopted and adapted by countries all over the world.
1855年 - 美国第一个综合下水道系统
1855 - First comprehensive sewer system in America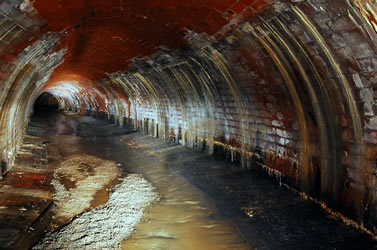 在19世纪中期,芝加哥完成了伊利诺伊州和密歇根运河的建设,使芝加哥河倒流,这两个巨大的给排水系统工程有助于芝加哥发展成为美国全国贸易中心。然而,在同一时期,蓬勃发展的芝加哥市也因多次霍乱、伤寒和痢疾的爆发而失去了数千人的生命。 为了改善让市民生病的沼泽环境,芝加哥市工程师在道路上方铺设了污水管道,并覆盖上泥土,将街道垫高了8英尺(2.43米)以上,使芝加哥市从泥泞中升上来。到1855年,芝加哥已经建成了美国第一个全市范围的下水道系统。
In the mid-1800s, Chicago completed construction of the Illinois and Michigan Canal and reversed the flow of the Chicago River, two massive plumbing feats that helped transform the city into a national trade hub. During this same period, though, the burgeoning city also lost thousands of lives to multiple cholera, typhoid, and dysentery outbreaks. To eliminate the swampy conditions that kept making its citizens sick, city engineers laid sewer lines above the thoroughfares and covered them with dirt, elevating the streets by as much as 8 feet and literally raising the city out of the muck. By 1855, Chicago had built America's first citywide sewer system.
1857年 - 第一个商用卫生纸
1857 - First commercially available toilet paper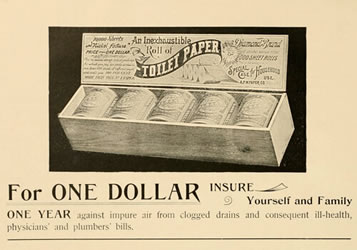 美国发明家约瑟夫•盖耶蒂开始销售由大麻和芦荟制成的"药用纸"。他为自己的发明感到骄傲,每张纸上都印有他名字的水印。这种厕纸以平板包装出售,并被宣传为"这个时代最需要的东西!"最近人们由于担忧新冠肺炎病毒隔离而囤积厕纸的现象,表明厕纸在世界各地的主要产品中是多么珍贵一种。
American inventor Joseph Gayetty began selling "medicated paper" made of hemp and aloe. He was so proud of his invention that each sheet carried a watermark of his name. The toilet paper was sold in packages of flat sheets and advertised as "the greatest necessity of the age!" The recent phenomenon of people hoarding toilet paper in anticipation of coronavirus quarantine shows how precious a staple it has become around the world.
19世纪70年代 - 第一个陶瓷冲水马桶 - 第一个热水器
1870s - First ceramic flushing toilet - and water heaters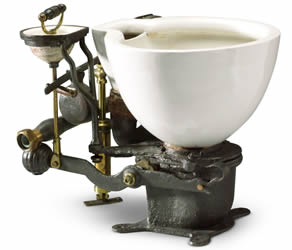 英国陶器制造商托马斯•威廉•特威福德发明了一体式陶瓷马桶。他是在从去世后的父亲托马斯•特威福德手中接管了特威福德公司几年后取得了这项创新性突破,他本人也是卫生洁具行业的先驱。大约在同一时间,热水器开始出现在小型建筑中,在烹饪、清洁、洗手和洗澡方面彻底改变了美国家庭。
British pottery manufacturer Thomas William Twyford invented the single-piece ceramic toilet. His breakthrough came a few years after he took over the Twyford company from his recently deceased father, Thomas Twyford, himself a pioneer in sanitary hygiene. Around the same time, water heaters began to appear in smaller buildings, revolutionizing the American home with immediate improvements in cooking, cleaning, handwashing, and bathing.
1891年 - 托马斯•克拉珀的真相和传说
1891 - The truth and myth of Thomas Crapper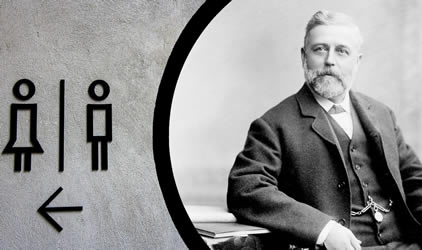 托马斯•克拉珀是一位成功的给排水和卫生洁具工程师。但是,与流行的传说相反,他没有发明冲水马桶 - 冲水马桶早在他出生之前就出现了。克拉珀之所以会被误认为是冲水马桶的发明人,是由于他在座便器方面的工作,他对浴室发展确实有很重要的历史贡献:事实上,他在1870年开设了世界上第一个浴室展览厅。
Thomas Crapper was a successful plumber and sanitation engineer. But, contrary to popular myth, he did not create the flushing toilet - which long predates his arrival on the scene. Crapper has been falsely credited with the invention thanks to his work on toilets, but his contributions to bathroom history were still significant: In fact, he opened the world's first bathroom showroom in 1870.