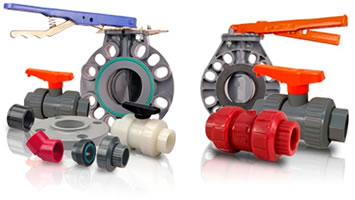 工业流体控制的权威

The Authority in Industrial Flow Control
严苛的工业应用环境,在流体控制处理过程中,要求极高得可靠性。正因为如此,Chemtrol®优异的工业流体控制产品才被人们所熟知。作为流体控制系统权威领头羊已经有65年的历史,Chemtrol所提供的产品具有让人信赖的优异性能与极高的可靠性。
Tough industrial environments require the utmost reliability in flow control processes. That's why Chemtrol® is known for its premium line of industrial flow control products. As the leading-edge authority in flow-control systems for more than 65 years, Chemtrol delivers superior performance and reliability where it really counts.
Chemtrol阀门与管件采用先进的热塑塑料工艺制造,耐研磨,耐腐蚀,耐恶劣气候,耐化学和生物侵蚀。适用的应用环境范围包括热腐蚀流体和化学处理过程,污水处理过程,制药和食品处理过程。
Chemtrol valves and fittings are made from advanced thermoplastics engineered for resistance to abrasion, corrosion, weather, chemical and biological attack. In environments ranging from hot corrosive liquids and chemical processing, to waste water treatment, pharmaceuticals and food processing.
Chemtrol致力于为您的工业解决方案提供不断改进的方法。不仅提供优异的产品,还提供技术服务和支持,教育和培训。如果您的工程在设计规划时需要帮助,请寻找您的经销商,获取产品样本和资料,提交并跟踪您的订单。
Chemtrol is committed to a prograssive approach to your industrial solutions. Not only in superior products, but technical service and support, education and training. Get assistance to spec a job, find your distributor, get catalogs and submittals, and place and track your order.
全系列工业塑料产品,展示独特的性能,适用于广泛的工业应用。
The full range of industrial plastics materials exhibit distinctive properties to suit a range of industrial applications.