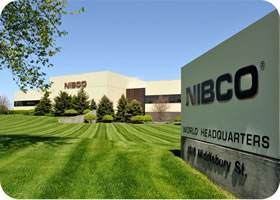 美国尼伯科,公认阀门、管件和流体控制产品制造商和品牌领头羊,在美国、墨西哥和波兰拥有十个生产制造基地,以及八个分销中心,为客户提供超过3万个库存单位的产品。美国尼伯科家族以及其合伙人跨越5代人,至今依然保持私有企业性质,并且在全球业务中始终保持进取状态。最近三年,美国尼伯科业务扩张脚步包括收购Sure Seal和Webstone,业务范围进一步扩展到工业市场和水循环冷暖市场。
Nibco, a recognized manufacturer and brand leader of valves, fittings and flow-control products, operates ten manufacturing facilities throughout the United States, Mexico and Ploand, and eight distributing centers, and offers more than 30,000 SKUs to its customers. Spanning five generations of family leadership and associate ownership, Nibco remains privately-held and is positioned for growth in a global marketplace. In the last three years, Nibco has expanded its footprint with the acquisitions of Sure Seal and Webstone, further expanding its reach in the industrial and hydronics markets.
美国尼伯科创立于1904年,全球总部位于美国印第安纳州埃尔克哈特市。
Nibco was founded in 1904 and its World Headquarters is based in Elkhart, Indiana.