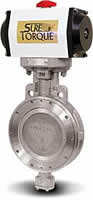 高性能蝶阀,是多年设计制造应用于各种领域蝶阀的经验结晶。我们阀门的设计和测试标准满足或超过要求最严格的蝶阀行业标准。如果您遇到难题或困难,需要选购阀门解决,您应该会找到我们的阀门。
High performance butterfly valves are the result of years of experience in the design and manufacture of products for a variety of applications. Our valves are designed and tested to meet or exceed the most exacting standard of our industries. If you have pressure and need a valve to hold it, you can find it on our valve.
特点与优点

Features and Benefits
直接安装执行机构


Direct mount actuation

动附载可调节密封填料


Live loaded adjustable packing

无缝连接的密封垫片


Uninterrupted gasket surface

可提供不同阀座材质,适应工作温度最高可达648℃


Available in different seat materials to 648℃

一体贯穿式阀轴


One-piece through shaft

焊接阀瓣销


Welded disc pins

整体铸造阀瓣止动部件


Integrally cast disc stop

广泛的应用领域,包括从真空应用,直到极高压力应用,以及极低到极高温度的应用


A wide range of applications from vacuum to very high pressure service, and from low to very high temperature service

适用于任何严苛的生产线


Suitable for any severe process lines

优异的控制性能,能够对流体介质实现节流控制


Excellent control characteristics that allow throttle control of flows

气密性关闭性能


Bubble-tight shut-off capability

可备选符合美国石油协会API 609标准要求的"防吹出阀杆"


Optional "Blow-Out Proof Stem" per API 609

双向应用


Bi-directional service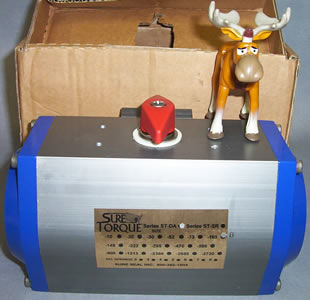 附件

Accessories
Sure Seal(稳密)Sure Torque™(稳劲)系列在当今市场中表现突出。
Sure Seal's Sure Torque™ Series is a proven winner in today's market.
可提供ISO 5211尺寸标准,执行器驱动端可以直接安装在Sure Seal(稳密)蝶阀上


Available in ISO 5211 Dimensional Standards, the actuator drive side directly mounts to Sure Seal Butterflt Valves

SureTorque™活塞采用压铸铝,驱动齿轮则采用碳钢材质,并加以化学镀镍


SureTorque™ pistons are diecast aluminum and the pinion is carbon steel, electroless nickel plated

所有SureTorque™执行器,包括双动及弹簧复位,都可以容易地现场更换,只需要将准确数量的弹簧腔插入到双动装置即可,无需庞大笨重的外壳附件,减轻重量,减少空间


All SureTorque™ actuators can be easily field converted from double acting to spring return by inserting the correct number of spring cartridges to the double acting unit, thus eliminating bulky housing extensions, saving weight and space

SureTorque™系列ST还可以提供多种附件


The SureTorque™ Series ST is available with a variety of accessories