Have you ever had a pipe burst, but were too intimaded by time-intensive traditional methods to attempt to fix it yourself? Now there is an easy and fast solution to repairing a burst pipe or adding a new line! Engineered to connect to, as well as transition fromcopper, PEX, or CPVC tubing, NIBCO® Push-to-Connect fittings create secure, leak-proof connections with no solder, crimping, joining material, or special tools needed.
So, how easy is it to repair a burst pipe with NIBCO Push-to-Connect fittings? Follow these simple steps, and see for yourself!
第一步:关断供水总阀,备齐所需器件

Step 1: Shut off Main Water Valve and Gather Your Supplies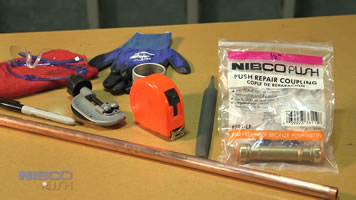 Remember to shut off the main water valve (Push couplings can be installed wet or dry).
Tools you need may include the following:

a clean, undamaged tube
tube cutter or fine toothed saw
file or deburring tool
a permanent marker
for PEX tubing: a PEX stiffener
a clean rag
Push fitting
第二步:标记需要切除的那段管子

Step 2: Mark Section of Pipe to be Removed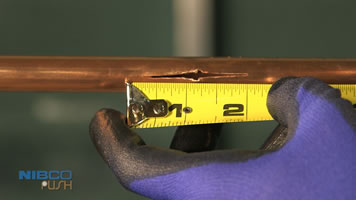 Mark the section of pipe to be removed, keeping in mind that the damaged section of pipe can be no longer than 2".
第三步:切割管子

Step 3: Cut the Pipe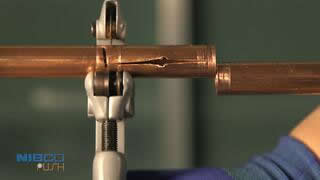 Cut the section of copper tube along your marks using a tube cutter or find toothed saw. Make sure to cut the tube end square!
Water may drain out.
第四步:清理管子的切割毛刺

Step 4: Deburr the Tube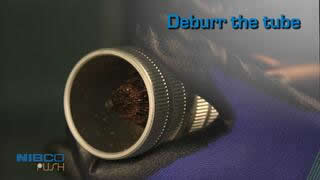 Deburr the tube inside and out using a half-round file or deburring tool to eliminate sharp edges.
It is important to clean to tube end with your rag to remove all dirt, oil, and grease.
第五步:标记要插入的管子

Step 5: Mark the Tube for Insertion
Mark the tube to indicate the proper tube insertion depth.
If you are using PEX tubing, you will need to use a PEX stiffener to prevent bending.
第六步:插入管子

Step 6: Insert the Pipe
Insert to a depth of 7/8" for 1/2" nominal pipe.
Insert to a depth of 1" for a 3/4" nominal pipe.
The slip coupling has two marks on it which indicate the "slip end" and the "roll stop mark". The "slip end" should be inserted first, and the "roll stop mark" is where the pipe will stop after sliding back.
Push the "slip end" on the pipe until it stops at the "roll stop mark".
第七步:松开管夹

Step 7: Disengage the Grip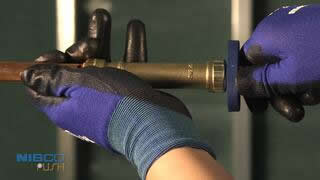 Use the removal tool to disengage the grip.
Slide coupling back to the other tube until it reaches the mark.
第八步:确保管子与管件连接安全牢固

Step 8: Make Sure Tube and Fitting are Secure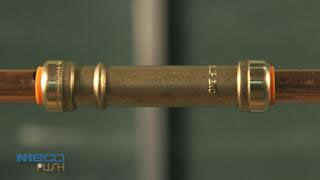 Make sure the tube and fitting are securely connected by checking that the depth mark meets the release collar.
That's all there is to it!
Consistent, cost effective, and backed by more than 100 years of experience, NIBCO Push lets you continue to push ahead to your next project! Want more information? Download "The Essential Push-to-Connect Quick Reference Guide" now for free!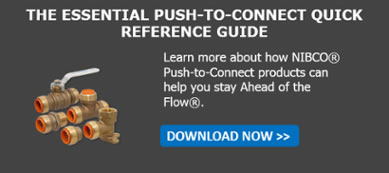 想要了解更多?
Want to learn more?