The APOLLOXPRESS Advantage
The APOLLOXPRESS line of fittings and valves features pre-lubricated seals and Leak Before Press" technology to ensure quick and confident connections. APOLLOXPRESS valves are available in both standard and lead free configurations, while all APOLLOXPRESS fittings are lead free.
APOLLOXPRESS products are manufactured in the USA by Apollo Valves and Elkhart Product Corporation. Together, we proudly employ 2,000 hard working Americans. With 9 locations in the US and a US-based supply chain that touches another 3,500 American workers, we bring you an extensive line of quality American Made products at competitive prices.
The Principle Behind APOLLOXPRESS
APOLLOXPRESS fittings achieve a sound joint through the exertion of pressure from a press-fit tool. A specially designed EPDM o-ring within the collar of the fitting provides the mechanism by which a permanent seal is created. Once the copper tube is fully inserted into the fitting, the jaws of the press-fit tool are placed around the collar. With the jaws at a 90° angle to the fitting, the press-fit tool is activated and the jaws compress the o-ring tightly onto the copper tube, creating a strong and reliable joint. Compatible with most commercially available press-fit tools.
Heat free. Worry free.
APOLLOXPRESS is heat free, requiring no soldering. The possibility of flame damage and related insurance costs is eliminated.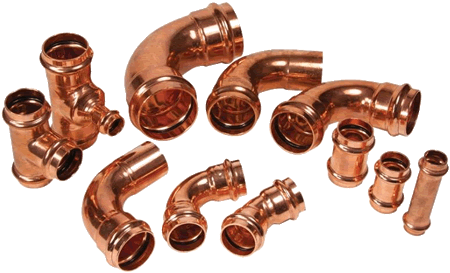 Less hassle. Less time.
The APOLLOXPRESS streamlined joining method reduces time spent on site. The fast, easy process bypasses the need for extensive tube preparation and time-consuming material use. The simple joining approach creates a strong, lasting joint with significant time savings, especially on large-diameter applications.
Fewer accessories.
Not only does APOLLOXPRESS save you time, it also saves you from purchasing, storing and carrying accessory materials. Gases, fluxes, solders, adhesives, threading machines, and other materials and equipment are a thing of the past. With APOLLOXPRESS copper fittings, you need only your press tool and jaws.
No mess. No waiting.
The APOLLOXPRESS joining process is intrinsically clean. No extra cleanup is needed once the job is done. There is never a chance for adhesive, flux or solder to contaminate the bore.
Optimal performance.
Like all Elkhart Products Corporation copper pipe fitting products, APOLLOXPRESS press fittings are designed and manufactured with the highest quality possible. APOLLOXPRESS press fittings go above and beyond to meet the latest industry standards.
Available in sizes from 1/2" to 4", APOLLOXPRESS is ideal for use on hot and cold water services, vented and unvented closed circuit heating, chilled water and oil-free compressed air applications, and versatile enough to be used with a variety of other manufacturers' products.
APOLLOXPRESS is ideal for repair. There is no need to wait for the copper pipe to dry. You can press an APOLLOXPRESS fitting onto a wet copper tube without worry that the fitting will leak.
Guaranteed.
Our 50-year warranty ensures that your perfect fit will stay perfect. The APOLLOXPRESS line is covered by the same warranty offered on our copper sweat fittings.
For more information, contact us today!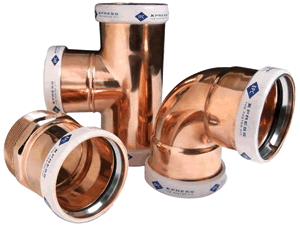 The APOLLOXPRESS design provides a superior seal and is the cleanest connection available. There's never a chance of contamination by flux, solder or adhesive.
From 1/2" to 4", your connection is complete in less than 10 seconds.