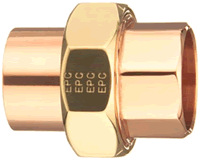 An American Company With a Global Connection
In August 2004, Elkhart Products Corporation became part of Aalberts Industries N.V., a Dutch-owned group that specializes in industrial services and flow control systems. At that time, the Aalberts Flow Control operations had been concentrated in Europe, specializing in the manufacture and supply of fittings and valves to the construction markets.
Elkhart Products Corporation is now at the heart of a group moving from European market leader to global player and is joined with other Aalberts operations that include Yorkshire Fittings, Broen Valves, VSH Fittings, and Seppelfricke.
With operations in Elkhart, Indiana, and Fayetteville, Arkansas, Elkhart Products Corporation produces a complete line of wrot copper fittings for use in residential, commercial and industrial construction segments. Elkhart Industrial in Geneva, Indiana, fabricates custom copper and aluminum tubular products for sale to original equipment manufacturers in the air conditioning and refrigeration, and transportation industries. In addition, Elkhart Products Ltd. in Burlington, Ontario, is the Canadian marketing arm for all manufacturing units.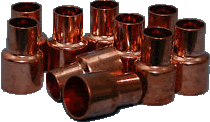 These combined companies share a powerful range of distribution channels that continue to generate significant growth for all parties. To read about our journey to this juncture, click on history.