A Push in the Right Direction
CopperLOC" fittings are a heat free method for joining Copper, CPVC and PEX tube. They are designed to save time and money on installations. Installing a CopperLOC joint is simple, requiring no extra materials.
CopperLOC fittings eliminated the need to obtain a "Hot Work" permit, which can have costly insurance implications. The potential for flame damage is removed. No more solder, flux, heat, adhesives, threading machings or special pressing tools needed!
The result: lower costs, reduced labor time, and a clean and efficient installation process!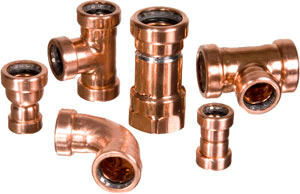 Superb performance.
Perfect for hot and cold water services and chilled water applications
Designed and manufactured with the highest quality possible
Meet the latest industry standards
Manufactured in the USA from copper or copper alloys and use EPDM o-ring seals
Designed to join Copper, CPVC and PEX tube in the ½" to 1" size range
A tube liner is required when using PEX tubing
Operating temperatures are from 0° to 250°F at a maximum working pressure of 200 psi
Perfect fit. Perfect warranty.
CopperLOC fittings carry a 50-year-warranty against manufacturing defects. Contact an EPC representative for details. All warranties are subject to following good installation practices. The installation manual provides comprehensive details.
For more information, contact us today!