A Proud History, An Exciting Future
From its start in 1940 as a small manufacturer of screw machine products, Elkhart Products Corporation (EPC) has built a reputation for quality products and quality personnel.
As the company expanded in the early 1950s into a 60' x 240' structure and became a fabricator of various copper and aluminum tubular components, it also became known for its innovation and service.
Expansion continued with the purchase of machinery from Chase Brass and Copper Company in the late '50s and wrot copper tube fittings for the plumbing, air conditioning and refrigeration industries were added to the product line. Growth continued with the construction of plants in Fayetteville , Arkansas , in 1962 and in Geneva , Indiana , in 1969. After a period of outside ownership, EPC joined the Amcast Industrial family in 1983, operating as a wholly owned subsidiary. Another addition to the family was the opening of the Canadian Distribution Center in Toronto , Ontario in 1990.
Today, EPC is part of Aalberts Industries N.V. and enjoys the distinction of being one of the world's largest manufacturers of wrot copper fittings. It's also recognized as a versatile supplier of custom fabricated tubular products to original equipment manufacturers in several industries, including automotive and air conditioning and refrigeration.
Wrot copper fittings and related products are marketed nationally and internationally by our Plumbing Products Division.
Stocking manufacturers' representatives and distributors effectively serve the new construction, service and repair, and remodeling markets.
Our Industrial Division, specializing in custom fabrication of tubular components and services OEM customers through a technically oriented direct sales force and other representation.
We encourage you to visit us at our Elkhart, Indiana, location that houses our corporate offices, sales, accounting, engineering, data processing and experimental labs. Production activities here include the manufacture of a major portion of the wrot fitting line and the cleaning and boxing of all wrot fittings. A factory stock of wrot copper fittings and related cast bronze fittings marketed by our Plumbing Products Division are stored prior to distribution in our automated warehouse. This warehouse boasts a main storage area of nearly a 5,000-pallet capacity served by three crane-style couriers that efficiently move material in a rack-style structure more than 70 feet high.
Elkhart Products Corporation Today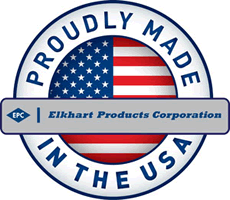 From our humble beginning in 1940, the Elkhart facility has grown into a 222,000 square-feet facility with more than 275 employees. And while those numbers make us happy, we're not content to rest on our reputation. The Human Resources department actively seeks people who share our commitment to quality and innovation and who want to be part of our growth.
We're also proud of the growth at our Geneva , Indiana counterpart that performs custom tubular fabrication work (copper, brass, aluminum and other nonferrous metals) for original equipment manufacturers. Processes include cutting, bending, extruding, brazing, cleaning and boxing. The Geneva facility has also grown into more than 106,000 square feet with 140 employees.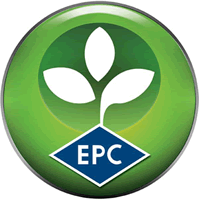 Additionally, the Fayetteville , Arkansas plant manufactures high-volume items in the wrot copper fitting line. It constructed a 21,600 square feet structure to house a state-of-the-art continuous casting system for the production of copper rod and tube. This $5 million operation began production in 1987 and currently produces a significant volume of the copper tube and rod required by EPC to produce wrot copper fittings. The Fayetteville facility now covers 107,800 square feet and employs 175.
Elkhart Products Limited (EPL), with its 7,000 square foot Canadian Distribution Center, continues to service plumbing and air conditioning and refrigeration wholesalers with wrot copper fittings.
We thank those of you who have contributed to our success and look forward to many more years of service to our customers!