安装位置要求条件
Location Requirements
安装地点
Site location
  选择这个热水器所要供水的用具附近的位置。这个热水器必须在室内的水平地面上立式安装。
  Select a location near the fixture that this water heater will supply. The water heater must be installed indoors and in a vertical position on a level surface.
  热水器应该安装在不会冻结的地方。如果热水器安装在不具备条件的地方(如:阁楼,地下室,等等),可能要求水管和排水管加装保温层以防止被冻结。排水和控制装置应该放置在容易接近的地方,以方便操作和维修。
  The water heater should be located in an area not subject to freezing temperatures. Water heaters located in unconditioned spaces (i.e., attics, basements, etc.) may require the water piping and drain piping to be insulated to protect against freezing. The drain and control must be easily accessible for operation and service.
  不要把热水器直接与按摩浴缸或热浴缸直接连接。
  Do not use this water heater in conjunction with a spa or hot tub.
  注:您所在地的地方法律和规定可能要求热水器必须安装在下部加热元件离地最少18英寸的位置上。
  Note: Local codes and requirements in your area may require the water heater to be installed such that the bottom element is elevated from the floor at least 18 inches.
  重要提示:安装热水器的位置应该位于当热水器或连接管道出现泄漏时,不会导致热水器附近区域或底层结构出现破坏的地方。由于水的正常的腐蚀作用,超过使用期限后,热水器最终会产生泄漏现象。建议如下图在热水器下方安装一个适当的排水盆。这个排水盆有助于保护财产避免遭受由于热水器正常产生的冷凝水,以及热水器或管道连接部位泄漏可能造成的损失。这个盆的深度限制在2.5英寸以下,宽度限制在比热水器外壳宽2英寸以下,排水盆的排泄管道要接到排水口处。室外排水口在冰冻气温下可能会冻结并堵塞排水管。这种管道口径至少应该是3/4营村,并要有适当的倾斜度。
  Important: The water heater should be located in an area where leakage of the tank or connections will not result in damage to the area adjacent to the water heater or to lower floors of the structure. Due to the normal corrosive action of the water, the tank will eventually leak after an extended period of time. It is recommended that a suitable drain pan be installed under the water heater as shown below. This pan is to protect the property from damage which may occur from normal condensate formation on the tank or leaks in the tank and pipe connections. The pan must limit the water level to a maximum depth of 2-1/2 inches and be two inches wider than the heater and piped to an adequate drain. Locate the water heater near a suitable indoor drain. Outdoor drains are subject to freezing temperatures which can obstruct the drain line. The piping should be at least 3/4"ID and pitched for proper drainage.
  与本热水器连接的水所造成的任何损害,无论如何制造商都不承担任何责任。
  Under no circumstance will the manufacturer be held liable for any water damage in connection with this water heater.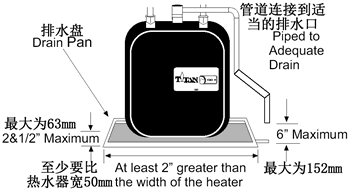 注:应该将热水器安装在不会被移动的汽车或区域水灾造成物理损害的地方。
  Note: The water heater shall be located so it is not subject to physical damage by moving vehicles or area flooding.
美国加州
Sate of California
  注:应该把热水器职称、锚固或用带子系牢,以避免地震发生时出现移动。请与当地的有关部门联系索要有关的法律规定,或拨打1-800-999-9515索要说明书。
  Note: The water heater must be braced, anchored, or strapped to avoid moving during an earthquake. Contact local utilities for code requirements in your area or call 1-800-999-9515 and request instructions.
  安装说明:
  本热水器可以安装在墙上或橱柜内部。
  1. 用螺栓紧固支撑在墙上的安装支架。
  2. 将热水器钩在支架上,放下热水器,使其位于适当的槽内。
  Mounting Instructions
  This unit may be mounted on a wall or inside a cabinet.
  1. Fasten the mounting bracket provided to the wall cabinet with screws.
  2. Hook the water heater to the bracket and pull down until it is in the proper slots.